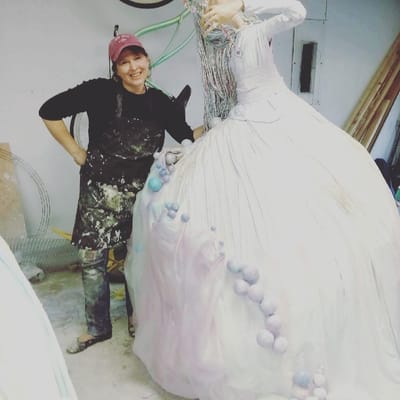 Hello and welcome to my portfolio.
I am Shannon Marie and I make Mixed Media Magic!
Paper scraps, old hardware, wood and discards of all kinds are transformed into whimsical characters, prints, cards, coasters, apparel and more! I see beauty in the brokenness and love sharing my passion for making things from practically nothing with others.
My workshops and art camps provide a place where kids and adults have the opportunity to explore, experiment and create. I have run art workshops in small traditional classroom settings, homeless shelters, corporate offices, libraries, malls and large-scale public events.
I love creating - my next project, class or camp is always my favorite!
A few more facts:
I am listed on the Ohio Teaching Artist Roster -
https://artslearning.ohioartscouncil.org/directory/name/shannon-timura/
* I was the director of Art Education for a performing arts school where I ran the department, taught classes, held shows and did set design for the theater department.
* I am a public artist. I have created murals, and sculptures for businesses, brands and cities. My big claim to fame is my project for Olay that landed me a spot in Oprah's O Magazine where I was named a Fearless, Female Artist of the year. (2018)
*My Fairy Camp is a sell out each year and this year I am adding additional weeks to accommodate more kids!
* Robots, Owls, Frogs and big eyed witchy girls are frequent characters in my work.
* Making art and teaching art was my dream as a child - and now I am doing both. Five-year-old Shannon would be SO PROUD...
You can find my work locally (to Ohio) in the following shops;
Made Cleveland - Coventry
Bay Arts - Bay Village
Akron Soul Train - Akron
River Light - Peninsula
The Jenks Building - Cuyahoga Falls
Valley Art Shop - Chagrin Falls
Fabled Forest - -Georgetown, KY
Halfmile Handmade - Bay City, MI
Heights Art - Cleveland Heights
OddMall Assembly of Odd - Canton